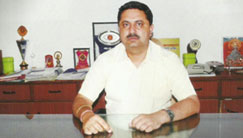 Message From Director
It is a matter of great satisfaction to donate this institution to satna city. SRKC is one of the best educational institute imparting quality education in various fields such as management, computers, science, arts and commerce.
I wish all the students of SRKC to lead a life which is purpose full positive and constractive.
With best Wishes
Shammi Puri
Welcome to Shri Rama Krinshna College Of Education
It is rare in these times to have istitute genuinely dedicated to the students and not just to their walletls. The SRKC is the centre of excellence offereing quality education esatblished in 2006 it is located. SRKC has one on the finest interior with a state of art infrastructure. The college is organized int various functional departments which is headed by an experienced and qualified teachers who help our students acheive their dreams.
Objectives
Shri Rama Krishna is a charitable Trust established for public Charitable purposes such as education, relief the poor, medical relief etc."To become the biggest learning organization offering educational services of the higest quality and creating goodwill in the process matched by none"
Goals
1. To impart updated high quality of education.
2.To establish facilities for technology incubation and innovation management.
3. To promote all round development of students & crate a sencse of social responsibility.
4. To foster strong academic interactions and exchanges for the benefit of students and faculty.