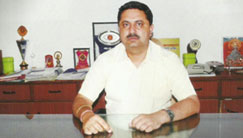 Message From Director
It is a matter of great satisfaction to donate this institution to satna city. SRKC is one of the best educational institute imparting quality education in various fields such as management, computers, science, arts and commerce.
I wish all the students of SRKC to lead a life which is purpose full positive and constractive.
With best Wishes
Shammi Puri
The Infrastructure
Shri Rama krishna college has well equipped class room, Departmentwise staff rooms, girls and boys common room, beside and office and Administrative block in its campus. It has also a Semnar Room Furnished with an audio visual system and LCD projector. It has also an indoor Games hall in which State level competitions are organised timely.
Computer Lab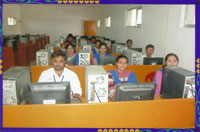 College has well equipped computer lab with latest hardware and software. students are given individual attention with one pc per student. Facility of more practicing time is provide to them so that can practice more on computers so they become expert in their respective fields.
Biotechnology Lab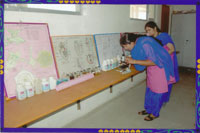 College has well equipped biotechnology lab for the practical knowledge of students. In these days practical knowledge of these sciences are become essential so these labs are equipped with modern instruments like Elisa PCR Reader, Spectrometer etx.
Botony Lab
In view of science practical knowledge there is a botony lab where students can avail more knowledge of their subjects.
Chemistry Lab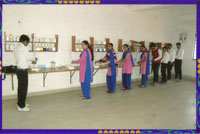 SRKC has modern Chemistry labs where all the necessary instruments are available for the students so that they can make all over development.
Class Rooms
Shri Rama Krishna College has well furnished classrooms equipped with CCTVs. Class rooms are spacious for the students and well ventilated. Furniture of class rooms are made according to comfort of students.
Seminar Hall
In college there is a seminar hall where all types of seminars can be organized. Seminar hall is equipped with LCD Projector. This Seminar hall is soundproof so that there is not any disturbance in the classes.
Sports Hall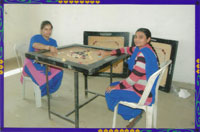 Games and sports makes man healthy. College has a indoor sports in its campus where different indoor games are organized.
Library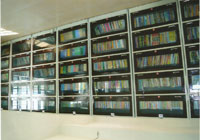 Shri Rama Krishna College has a huge library in which books on all subjects are present for student. Student can avil library facility for their knowledge improvement and subject strengthening. In library periodicals, national/ State newspapers, magazines, Jorunals, books on selfdevelopment & motivation are also available.
Staff Room
College has department wise seperate staff rooms for their staff. Sot that they can relax in free time and can make prepration for their next classes.
Canteen
Canteen is a place where student can get relief, make their mood and refresh themselves for further studies. Fresh Eatables are available in the college canteen.
Internet
The college has broad band internet connections with connectivity in computer lab, library and Administration. Students are encouraged to explore and learn through the net in disciplined manner.
Guest Room
College has its own Guest Room for their guest. In which guests can avil this facility free of cost. This guest room has all modern facilities.
Hostel
The college has seperae girls and boys hostel for those students who do not reside in satna. These hostels are well secured and provide all facilities to students which they get in their home.