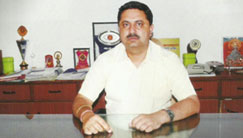 Message From Director
It is a matter of great satisfaction to donate this institution to satna city. SRKC is one of the best educational institute imparting quality education in various fields such as management, computers, science, arts and commerce.
I wish all the students of SRKC to lead a life which is purpose full positive and constractive.
With best Wishes
Shammi Puri
Mandatory disclosure
A. Sanctioned programmes along with annul intake in the institution BED :
Click View
B. Name of faculty and staff in full as mentioned in school certificate along with their qualifications, scale of pay and photograph.
Click View
C. Name of faculty members who left or joined during the last quarter :

D. Names of student admitted during the current session along with qualification , percentage of marks in the qualifying examination and in the entrance test , if any , date of admission etc.:
Click View
E. Fee charged from students;
Click View
F. Available infrastructural facilities;
G. Facilities added during the last quarter;
H. Number of books in the library , journals subscribed to add additions , if any in the last quarter ;
I. The affidavit with enclosure submitted along with application;

J. The institution shall be free to post additional relevant information. If it so desires.